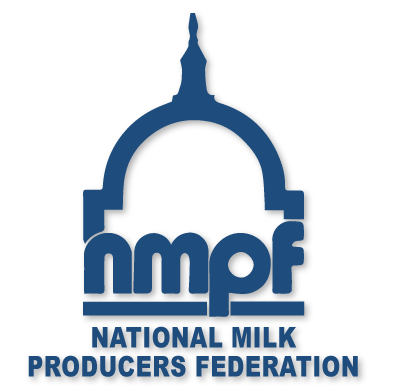 An update from Jim Mulhern at National Milk Producers Federation on MPP…
The enrollment window to take advantage of the improved USDA Margin Protection Program is closing in three weeks, so we wanted to send a reminder today to our members that farmers soon must make decisions about coverage under the program in 2018.
The sign-up period closes on Friday, June 1st, at county FSA offices.  In order to better prepare farmers for the decisions they must make by then, NMPF has created or updated several informational materials to help in the process.  These materials are attached with this email (and also featured on our updated Future for Dairy website):
Thanks to NMPF's work with Congress in the past year, the changes made by Congress to the dairy safety net in 2018 are particularly valuable in a year when prices are very depressed. They include:
Raising the catastrophic coverage level from $4/cwt. to $5/cwt. for the first tier (5 million pounds) of milk production history for all dairy farmers.
Adjusting the first tier of covered production to include each farm's first 5 million pounds of annual milk production history (the output of about 215 cows), up from 4 million pounds.
Reducing the premium rates for every producer's first 5 million pounds to better enable dairy farmers to afford the higher levels of coverage that will provide more meaningful protection against low margins.
Making payments monthly, rather than bimonthly, to be more responsive to volatile market conditions.
Waiving the annual $100 administrative fees for "underserved" farmers: those who meet certain criteria defined by USDA, including limited resource, beginning stage, veteran or socially disadvantaged farmers.
Removing the $20 million annual cap on all livestock insurance, including the LGM-Dairy program. This will allow USDA to develop and/or approve additional risk management tools for dairy producers that can complement MPP-Dairy.
This last element is an important change that shouldn't be overlooked in the focus on improvements to the MPP. Expanded access to LGM – and other potential risk management insurance products such as the new Dairy Revenue Protection program recently created by the American Farm Bureau – may be a more useful risk management option for some farmers not wanting to use MPP.
In addition to these attachments, we are highlighting in the image below the projected payouts from the MPP this year, based on May 9 results from the forecasting tool offered by USDA for an average-size dairy with a production history of 4.5 million pounds, covering 90% of that production. This online calculator is updated daily with futures markets forecasts for milk and feed costs, and automatically generates a net payment estimate. Remember that this is a forecasting tool, and will generate different estimates every day as the futures markets reflect evolving expectations of commodity prices.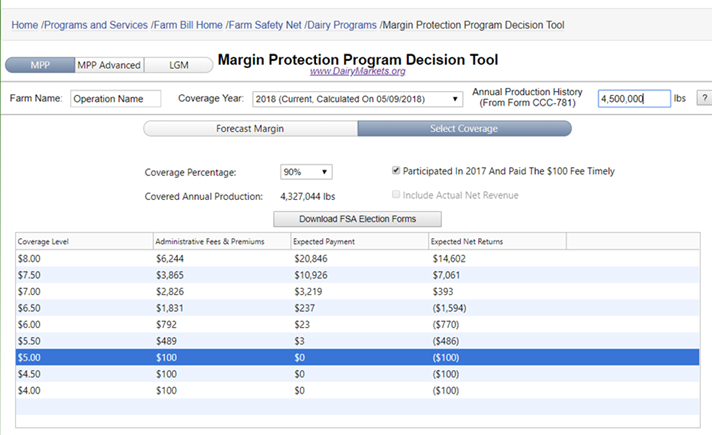 For those who wish to customize the 2018 margin forecast, NMPF's online MPP tool requires users to input their own forecasts for milk and feed costs, and then it generates estimates of payments. The image below is a picture depicting the calculator only with the margin results for the first three months of this year, before the future values of milk and feed prices are added.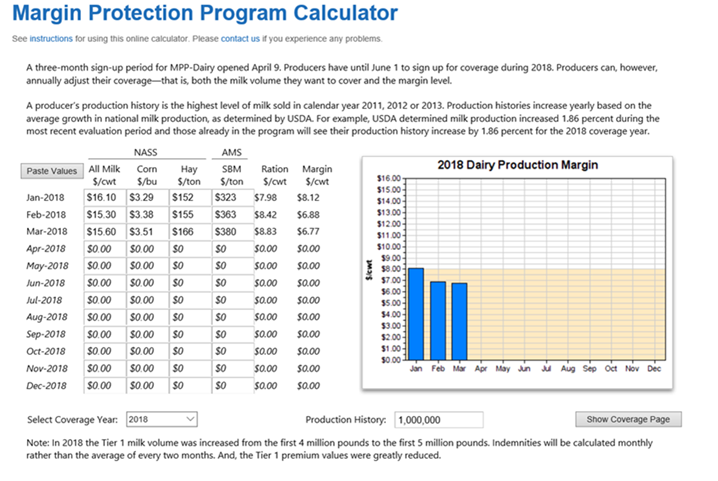 Please reach out to your local FSA office if you have any questions on the Margin Protection Program.